Discover Sri Lanka Wildlife & Nature

Commonly referred to as "the Perl of the Indian Ocean",
Sri Lanka has a diversity of Wildlife. You may see them not only in national parks,
but also in the spots close to human territories such as the hotel gardens.
HIghlights
Safari in SriLanka
Yala National Park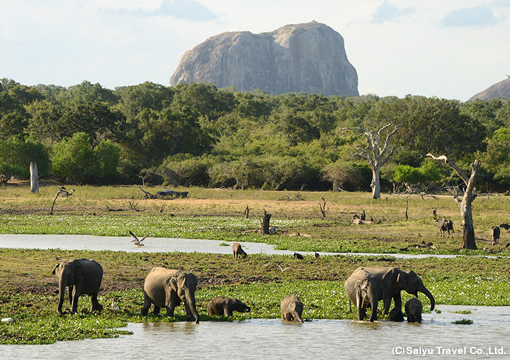 Yala National park consists scrub jungles with stunning outcrops of rock and many fresh water lakes and brackish lagoons. Eastern boundary of Yala National park is formed by the sea, marked by high sand dunes, sandy beaches and open grassland. Yala Protected Area complex, which is approximately about 129,693 ha. It extent and which is also the largest Protected Area Complex of the island The above multifarious ecosystems harbours a large number of important plant species and animal which include mammals such as, Elephant Wild Buffalo, Leopard, Sloth Bear, Sambhur, Spotted Deer, Indian Muntjac, Mouse deer, Jackal, Ruddy mongoose Grey mongoose, Stripe necked mongoose, Rusty spotted cat, Wild Pig and Black-naped Hare, Jungle cat and Common palm.
The lagoon is also a refuge to few swamp crocodiles, and on bright sunny days, if lucky enough you may witness them lying on rocks on a Sunny days. The beach near the hotel is frequented by nesting turtles. Five of the turtle species present in the world namely Hawk's-bill Turtle, Green Turtle, Loggerhead Turtle, Leatherback Turtle and Olive Ridley Turtle visit the shores for nesting. Yala National park provides habitats to a large number of birds. Recent studies have shown the occurrence of 282 of the 445 species of birds present in Sri Lanka which include endemic birds such as Ceylon Wood-shrike, Jungle fowl, Grey hornbill, Ceylon Green-pigeon and Brown capped babbler. During the North East monsoon season thousands of migrant water fowl and shore birds such as Greater Sand Plover, Lesser Sand Plover, Kentish Plover, Caspian Tern, Brown-headed Gull, Ruddy Turnstone, Pintail and Garganey visit the area and shares the wetlands with resident birds such as Black-winged Stilt, , Great Egret and Little Grebe Painted Stork Grey Heron.
Minneriya National Park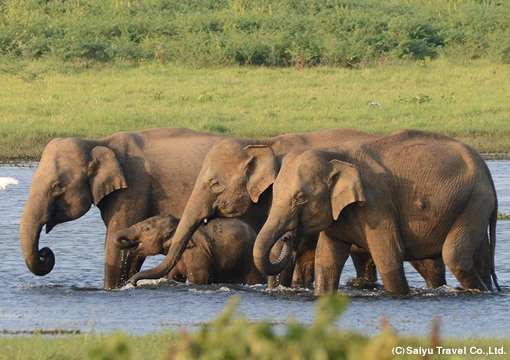 Minneriya National Park is a national park in the central province of Sri Lanka. The area was designated as a national park on 12 August 1997, having been originally declared as a wildlife sanctuary in 1938. The Minneriya Tank is of historical importance, having been built by King Mahasen during third century AD, and it dominates Minneriya National Park. The tank, surrounding flood plains, forest and wooded hills cover an area of 8889 hectares and extend north from the Sudu Kanda mountain range. In 1997, this area was declared as a National Park to protect the fauna and flora within the reservoir. For the role as a wetland, the reservoir and the surroundings have played; it has been included in the list of Asian wetlands of international importance.
The tank provides water to 8900 hectares of paddy field and is thriving with fresh water fish. As well as providing water for irrigation, this tank and its environs have provided the necessary resources to harbor many wildlife and plant life. Many small streams that converge at the reservoir feed the tank. This abundance of water attracts a variety of wild animals to the park. According to a census taken in 1986, around 24 species of mammals, 160 species of birds, 9 species of amphibians, 25 species of reptiles, 26 species of fish and 75 species of butterflies have been found in the area. Elephants, Sambar (Cerves unicolor), Spotted Deer (Axis axis), and on rare occasions, Leopard (Panthera pardus), and Sloth Bear (Melursus ursinus), can be seen wading through the water in search of food. Flocks of about 1500 to2000 cormorant (Phalacrocorax niger) diving in to the water is a sight not to be missed. Some of the other birds that come to the reservoir to quench their thirst and look for food are the Painted Storks (Mycteria leucocephala), Great White Pelican (Pelecanus anocrotalus), Ruddy Turnstones (Arenaria interpres) and Grey Herons (Ardea cinerea). The endemic birds found in this Park are the Sri Lanka Jungle Fowl (Gallus lafayetti), Sri Lanka Hanging Parrot (Loriculus beryllinus), Sri Lanka Brown-capped Babbler (Pellorneum fuscocapillum) and the Sri Lanka Grey Hornbill (Ocyeceros gingalensis). Crimson-fronted Barbet (Megalaima rubricapilla) and the Black-crested Bulbul (Pycnonotus melanicterus) can also be seen flittering through the trees. If you like frogs, the Sri Lanka Wood Frog (Rana gracilis) and Sri Lanka Greater Hourglass Tree-frog (Polypedates cruciger) are quite common and can be seen jumping from leaf to leaf in the wetlands. All the endemic species of reptiles such as Red-lipped Lizard (Calotes ceylonensis) and the Skink (Lankascincus fallax) are endangered. Mugger or Tank Crocodile (Crocodylus palustris), Land Monitor (Varanus bengalensis), Indian Python (Python molurus), and Water Monitor (Varanus salvator) can be seen around in the water. Of the 4 endemic species of fish found in the waterways, 3 are endangered. Thilapia, which has been introduced to the Park, is the dominant fish species. Of the 75 species of butterflies, 15 are endemic and 9 are endangered.
Wilpattu National Park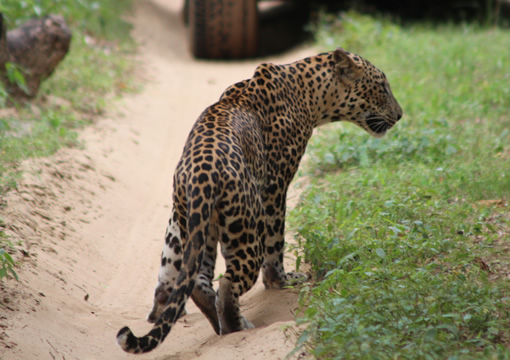 The largest national park in Sri Lanka. It is known for being able to sight Leopards and Sloth bears. The huge park area is covered with forests and lakes are dotted. Only a few tourists come to this national park.
Udawalawe National Park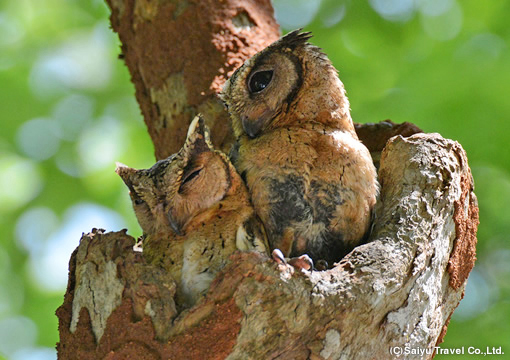 When you are in Sri Lanka you must visit Udawalawe National Park (486 sq. kilometers) by safari jeeps. Udawalawe presents you with first dry zone experience on the tour with Elephants and fantastic birding. During your visit to Udawalawe National Park close to 50-60 Elephants can be seen and the Nursery Herd which comprise of many baby Elephants is one of the main attractions. The park is good for birds of prey and we will look for Grey-headed Fish Eagle, Changeable Hawk Eagle, Crested Serpent Eagle, Black-shouldered Kite, White-bellied Sea Eagle, Common Kestrel, Shikra, Brown Fish Owl and Western Marsh Harrier. Also look for Malabar-pied Hornbill, Thick-billed Flowerpecker, Little Green Bee-eater, Common Hoopoe, Sirkeer Malkoha, Plum-headed Parakeet, Blue-faced Malkoha, Barred Buttonquail (sub species leggei, which is one of the 18 sub species worldwide!), Indian Silverbill and Black-headed Munia. Also look for the migrants which include Black-capped Kingfisher, Blyth's Pipit, Orange-headed Thrush and Bay-backed Shrike.

Whale & DolphinWatching
SriLanka's beautiful sea, you may encounter whales such as Blue Whales, Sperm whale, Bryde Whale. The base of whale watching are; Mirissa in South coast and Trincomalee in East coast Kalpitiya in west coast.
Many tourists come during the seasons. They are all aimed for the [Blue Whale, Sperm Whale]. You can also observe Spinner Dolphine and Bottle-nose Dolphine easily. You may encounter hundreds of dolphins at once especially in Trincomalee & Kalpitiya.
Mirissa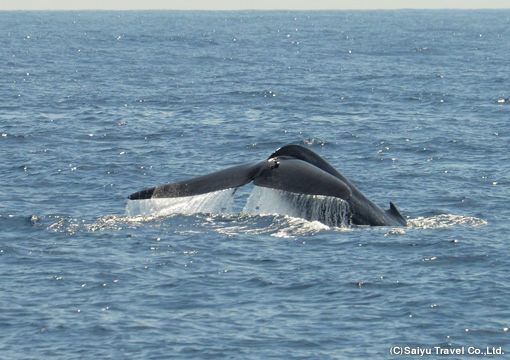 November to April is the time when whales gather at the deep sea of Mirissa in south coast to Dondra head. In this marine area there are herds of Spinner dolphins living, but during the oceans calm season, Blue whales, Sperm whales and sometimes even Killer whales observed. Early in the morning around 6am, tourists get together at fishing port in Mirissa. Some days, ten or more boats head off looking for whales. Whales can be spotted by blowing. In case of Blue whales, once it comes to the surface, blowing than dive again. The next time that comes to the surface is after 15 minutes, so you have to wait patiently.
Trincomalee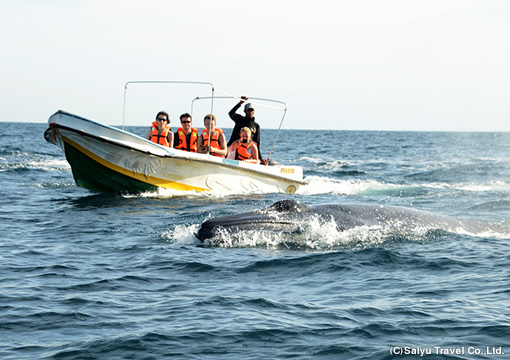 The sea of Trincomalee are rich in marine life, facing Bay of Bengal. Here, blue whales and sperm whales can be seen. You may have chance to watch bryde's whales or short-finned pilot whales as well. A big group of spinner dolphins can also be expected.
Kalpitiya
You can only observe whales and dolphins on a limited season in Kalpitiya because of its tight flow of the tide. From the Lagoon side, you can encounter Indo-Pacific Humpback Dolphin. Offshore, you can encounter hundreds of Spinner dolphins' herb, and sometimes even a whale. of Spinner dolphins sometimes even a whale.
Sri Lankan Marine activities
In the south coast, you can enjoy surfing, snorkeling and diving around Hikkaduwa. In the east coast, there are snorkeling and diving spots around Trincomalee. Also at Pigeon Island where it is designated as Marine National Park, there are more than 100 species of Coral and 300 species of creatures known of there existence. The Coral Reef that was destroyed by Tsunami on 2004 is now reproduction. You can see sea turtles, blacktip reef shark and barracuda while snorkeling. East coast, Arugam Bay is a worldwide famous surfing point.
*We highly recommend you to bring your own equipment for snorkeling such as mask & fin. The local fin quality may be bad and we cannot assure you that there will be your fine size.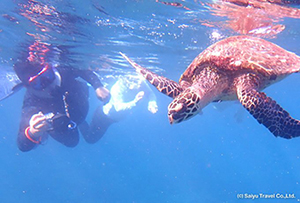 Trekking in Sri Lanka
Sinharaja Forest Reserve
Sinharaja Forest Reserve is a small tropical rainforest of 88 km2 in area, measuring about 21km east to west and 7km north to south. It is known for being habitats of endemic insects, amphibians, reptiles and birds. You can enjoy hiking along the trails in the rainforests, finding birds and watching the vegetation. Staying in the resorts adjacent to the reserve will also be a pleasant experience.
Horton Plains National Park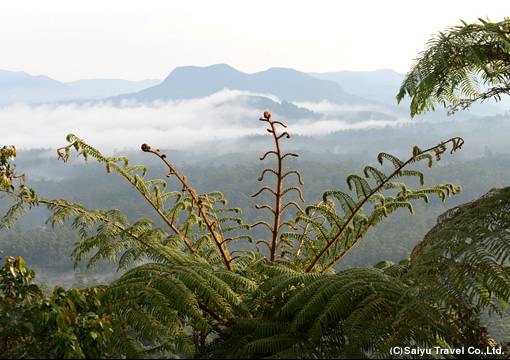 Horton Plains National Park is the only National Park in Sri Lanka where visitors are allowed to walk freely inside. It is situated at a height of about 2200 m above sea level in the central highlands of Sri Lanka, approximately 20 km south of Nuwara Eliya and covers 3162 hectares in extent. The climate here is wet montane climate with a mean average temperature of 15 centigrade. The vegetation in Horton Plains is defined as Montane Rainforests or Cloud Forests which shows gnarled and stunted growth not exceeding 15 meters in height. The montane flora here looks spectacular with their crowns appearing vividly in red, orange and purple
The flora is dominated by Rhododendron (of which the nearest relative is in the Himalayas), Calophyllum (mainly one species), and Syzygium (several species). In addition to Cloud Forests there are also open grasslands in the lower slopes, which serve as feeding grounds for herbivores such as Sambhur. In the forest patches you can look for the endemic Bear Monkey and Dusky Squirrel. You can also look for montane endemics Yellow-eared Bulbul, Sri Lanka Bush Warbler, Sri Lanka Whistling Thrush & Dull blue Flycatcher which are confined to Upper Montane of Sri Lanka, also look for Sri Lanka Wood Pigeon, Sri Lanka Hill White Eye Sri Lanka Scimitar Babbler. Horton Plains is a better site to observe Indian Blue Robin, Zitting Cisticola, Pacific Swallow, Mountain Hawk Eagle, Crested Goshawk and Indian Pied Bush Chat. This is also a better place to observe migrants such as Kashmir Flycatcher. We would say that you should come with your check list and tick them on your check list to see how lucky you are spotting them. Horton Plains is famous for World's End, a stunning viewpoint, which is a sheer drop of 870 meters hidden in clouds. We will however, focus on the well known bird rich areas, away from the popular walks to the viewpoint. The Park harbours a diversity of endemic montane lizards such as Rhino-horned Lizard, which was featured in Charles Darwin' monumental work on evolution, 'Ascent of Man', Black-lipped Lizard. This National park is also the habitat of Dwarf Chameleon keep your fingers crossed to see one of them.
Adam's Peak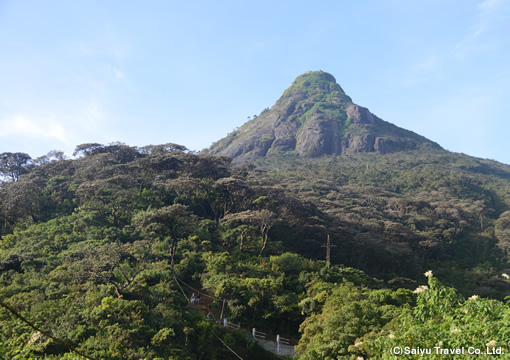 Adam's Peak is a mountain located in the Central Highlands and its peak is at an altitude of 2,238m. Although it is not the highest mountain in Sri Lanka, this mountain stands as the holiest religious spot. On the top of the mountain is a footprint, which is why this is also called Sri Pada (literary meaning "holy footprint"). Those who worship this mountain make a pilgrimage for it. This holy spot is shared by every major religion of this multi-religious country, which makes this mountain respected by people all over the country. For Buddhists this footprint is believed to be put when Gautama Buddha visited Sri Lanka, whereas Hindus believe this to be a Lord Shiva's footprint, Muslims say Adam, the first man in their faith, put this when he came down to the earth after he was banished from the paradise, and for Chiristians it is a footprint of Adam or Thomas the Apostle. It will be a good trip from Nuwara Eliya to visit this multi-religious holy mountain. A pilgrim trekking starts at late night avoiding the hot daytime. In the dry season the treks are crowded with the pilgrims. Some of them walk on bare feet. At the top of the mountain would be seen a wonderful sunrise.
BirdWatching in Sri Lanka
BirdWatching in Sri Lanka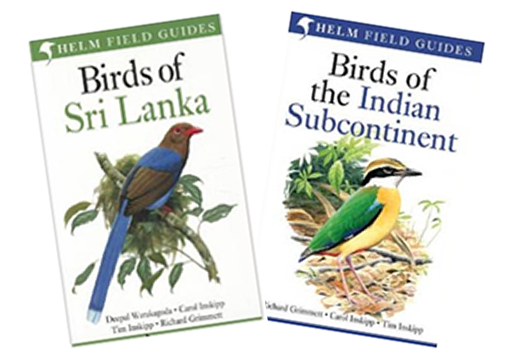 Sri Lanka is also famous for bird-watching. There are many Endemic species in Sri Lanka, during November to April migratory birds join in so forests & water place gets more crowded. You can see many wild-birds at a tree in the garden of your hotel, field along the way and also forests in national parks. Don't forget to bring your binoculars!
【Special Column】
Meet Loris in Night Forest!
You can observe Slendar Loris in Sri Lanka's forests, which is hard to observe in other Asian countries. Sri Lanka is a habitat of Grey Slendar Loris; endemic to Sri Lanka and Red Slendar Loris; endemic to Indian subcontinent. Originally they lived allover the forest in the island, but due to the development they lost their homes and decrease. They are very small and although they are family of monkeys, they get eaten by carnivore birds such as owls. Their body length is about 15~25 cm and it is not easy to spot them since they are nocturnal. If you were to go looking for them, please participate with sneakers, long sleeve and length trousers. You cannot use a flash when taking a picture, so you will need a camera that can be adjusted in the dark. Also, you cannot use a normal flashlight (infrared lights only). You can observe at suburbs of Negombo, Sigiriya and Sinharaja Forest reserve, but it often depends on weather and the timing. Please kindly contact us if you are interested!