General Information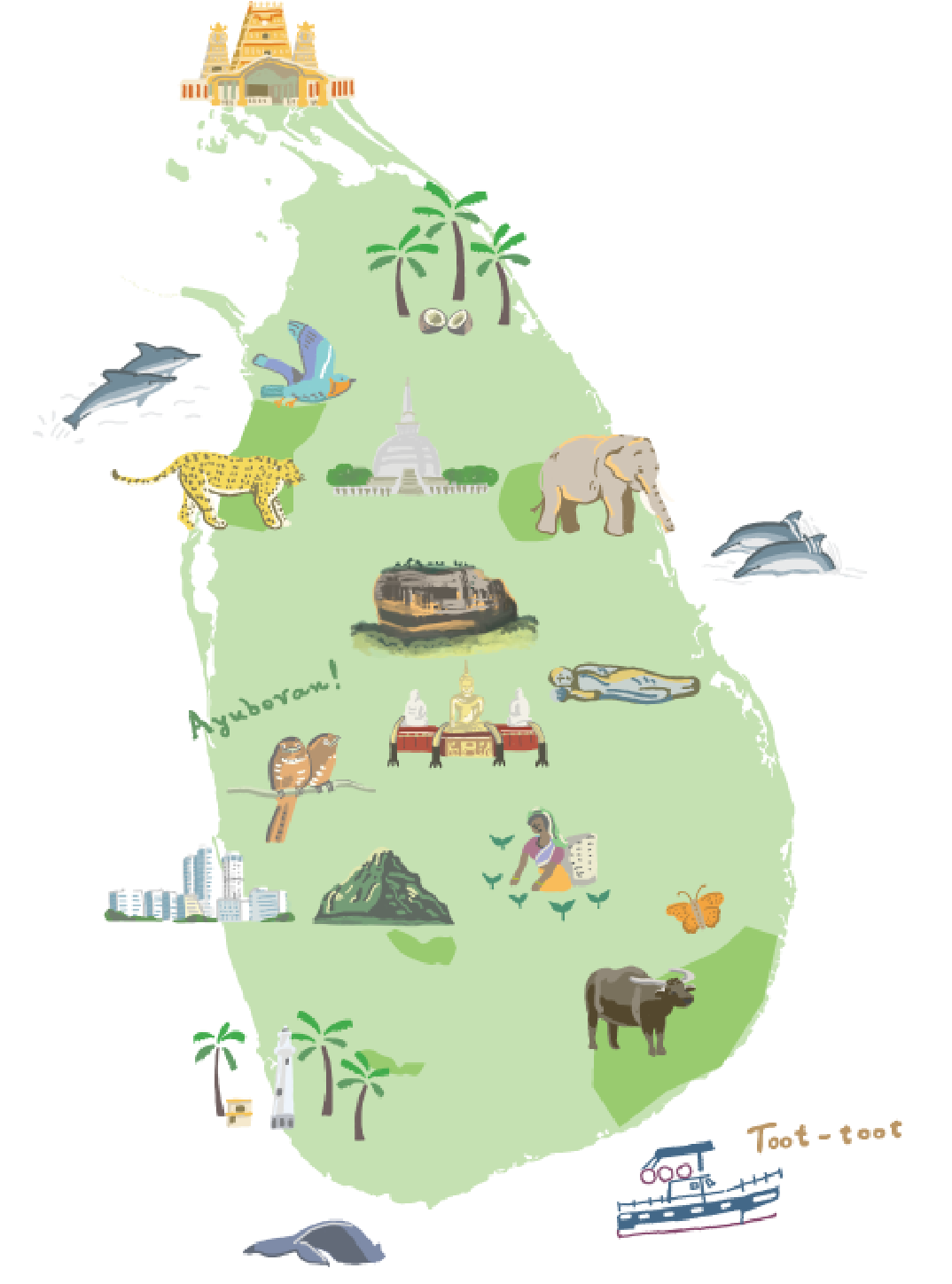 | | |
| --- | --- |
| Official name | Democratic Socialist Repbulic of Sri Lanka |
| Capital city | Sri Jayewardenepura Kotte |
| Area | 65,607㎢ |
| Population | 21.4million(2020) |
| Time zone | UTC+5:30 |
| Currency | Sri Lankan rupee (LKR) |
| Langauges | Sinhalese, Tamil. English is also widely spoken. |
Religion
In Sri Lanka, Buddhist, Hindus, Muslim, Christian live together. The populations are; Buddhist 70%, Hindus 10%, Muslim 8.5% and Christian 11.3%.
The most high population ratio is Buddhism and they belong to Theravada Buddhism, Believed mainly by Sinhalese.They have a strong devotion and so the monks are being respected a lot.
[Poya Day] the holiday to celebrate full moon Buddhists worship temples and alter gets filled with floral tribute. This day, there will be a very long line in front of the famous temples just to enter. Also, most of restaurants do not serve alcohol this day (dry day).
Sri Lanka's Hindus is believed mainly by Tamil. Of the Hindu gods many of them believe Shaivism, and its son Ganesha and Murugan are enshrined at the temples mostly. Muslim is believed mainly by a tribe called Moors. Others include Indian Muslim and Malay.Since it was a stopping point of East-West trade, it is said that it was told by Arabian merchants.Sri Lanka's Muslim is protecting the traditional habitat of the Sunni.
90% of the Christian are Catholic mainly believed by Burghers, a mixed race of the western Europeans and the locals. It includes some Sinhalese and Tamil. Some people are successors by speaking English as there mother language. Of Sinhalese people in Fishermen caste, the five commandments in Buddhism include Ahimsa Commandment (forbid killing the living) and it is difficult for them to accept it, they believe in Christianity.
Climate
Though Sri Lanka is a relatively small island country, its climate varies a lot depending on the levels on which the monsoons affect each region. In many areas the temperature is around 29 to 31°C throughout the year, though there may be some 2 to 3 °C differences. But in the Central Highlands including Nuwara Eliya, it is averagely 16°C, which makes it feel like spring all year round. You need an outerwear in the morning in these areas.
April is said to be the hottest season in a year. Southwest monsoon comes after that, from May to September, which brings much rain on the southwest coastal areas or the highlands, though little on the northeast parts including Jaffna or Trincomalee, in which it is the dry season.
Then from December to March, there is less rain in the southwest areas which includes many beach resorts, and it is the best season for the areas. On the contrary, northeast parts experience lots of rain brought by the monsoon from Bay of Bengal.
Currency & Money information
Sri Lanka's currency unit is Sri Lankan rupee. It is written as "Rs". 1USdollars = 144.5Rs (APR/2016). There is Sri Lankan Cents as well (written as Cts.), but it is not used these days. There are 6 kinds of bills; Rs5000, Rs1000, Rs500, Rs100, Rs50, Rs20. There is also Rs2000 & Rs10 bills but these are the old bills. There are 4 kinds of coins; Rs10, Rs5, Rs2 and Rs1. Traveler's check is a check for travelers which you can re-issue when it is stolen or loss, but there are a lot of scenes where you cannot use in Sri Lanka.
You will be able to use credit card at an expensive hotels and restaurants, some selected shops. But VISA and MasterCard is the main cards; AMERICANEXPRESS, Diners Club, JCB cards may not be able to use.
You can also use cashing service of your credit card at an ATM in the airport and in the central city.
Tips
A porter in hotels and at a train station, 50~100 rupee per luggage will be reasonable. The same amount for room service will be proper. At a restaurant, 10% of the payment is the market. Service charge may be included. Tips for guides and drivers; if they are accompanying you for few days, you should Tip on the final day.
Communication information
▼Internet
Most hotels have wifi and you will be able to connect it by computers and smart phones. The wifi might be able only in the lobby, or the wifi speed might be slow so if you would like to use the internet smoothly, we recommend you to purchase a SIM card. Communication fee is reasonable. For example, ones by Dialog; 550MG+19minutes of domestic phone calls prepaid card is Rs99. SIM free pocket-wifi or bring a SIM free smart phone and put in a SIM card at Sri Lanka may be convenient. There are internet cafes in the cities and you can use it with about Rs100 per 1hour. But the internet connection speed may not be as fast, and blackouts may happen.
▼Phones
You will be able to call both domestic and international from public phones in the city and phone shops with [IDD] signs. It depends on the distance, but it will cost about Rs40 per 2 minutes for domestic calls. For international calls, it will cost about 10 times more when you call from a hotel.
▼Mail
Envelopes are Rs40 if it is within 10 grams. After, Rs15 will be added each 10 grams. When you drop in the mail, the most certain and fastest way is to go to a nearest post office, but if there isn't, you could ask the front desk at a hotel or drop into a town mailbox. There is 3 kinds of mailbox in Colombo, green is for inside Colombo, red is for outside Colombo and blue is for international mail. Other than Colombo, there is usually only red mailbox.
Electronic Travel Authorization(ETA)
Visitors to Sri Lanka from most of the countries need to obtain an Electronic Travel Authorization (ETA) prior to arrival to Sri Lanka. It can be acquired online.
▼ETA Application Website
URL: http://www.eta.gov.lk/slvisa/

Entry & Departure
Bandaranaike International Airport is the main entrance in Sri Lanka.
▼Entry
Immigration:Line up in front of the counter and hand out your passport, arrival card, printed-out ETA sheet to the officer. You will get a stamped passport back and that is all for immigration.
Baggage claim:Pick up your luggage from the tern table. If your luggage does not come out, please inform to the airport staff with your baggage tag.
Customs:If you do not have a huge luggage, your passport will only be checked. You will not need any documents.
Arriving lobby:There are few bank counters so you can exchange to Sri Lankan rupee here. If you don't have an arrangement for transferring to a hotel in Negombo or Colombo, line up at a taxi counter.

▼Departure
Security check at entrance of the Airport:Your passport and E-tickets will be checked at the entrance of the Airport. After going through the entrance, you will get a light body check.
Re-exchange:When finished with body check, you will get to aisle that exchange stores lineup. You can re-exchange Sri Lankan rupee to foreign capitals.
Security check:When you open a door at the end of the aisle, you will get to a hole with benches. Here, you will get a security check& body check, X-ray inspection for your luggage and carry-on bags.
Boarding:After getting a security check, there will be a counter with airline companies. Handover your passport and E-tickets at your flights airline companies counter and check-in your luggage. You will get your passport & boarding pass back, and than you will be ready to go.